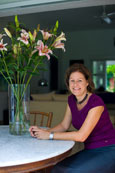 Kim Inglis is a writer and editor who specializes in books and features on interiors, architecture, design, food, health and beauty, and travel. Today based in London, she has worked in the past in both Hong Kong and Singapore. As such, she has a wide network of contacts internationally; and is available for commissioned work by magazine and book publishers.
Kim's qualifications include a Bachelor of Arts in English Language and Literature, as well as a Master's degree in the Sociology and Anthropology of Travel and Tourism.
Kim has been an editor and journalist for over 30 years, more than half of which has been spent in Asia. Her passion for different cultures, histories and landscapes has resulted in her travelling extensively from the Indian Ocean to North Asia and Australasia. The travel fuels her work, examples of which may be found on the following pages.
For those interested in buying Kim's books, they are available internationally at major bookstores and through www.amazon.com and www.amazon.co.uk.
To contact Kim, click here.